Food Sovereignty – Each One, Teach One
3 Day Course exploring the principles & practices of Food Sovereignty in a UK context
2nd – 4th October 2015
At Brook End LAND Centre near Street/Glastonbury, Somerset (1hour south of Bristol)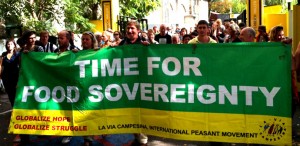 This two day course will introduce you to, or deepen your knowledge of, what Food Sovereignty means in a specifically UK context. It will also demonstrate the different ways in which you can enthuse others in your community of the importance of engaging with local food systems for social change.
What will happen over the weekend?
Together explore the fundamentals of food sovereignty in the UK, nationally and regionally
Look at the political and social issues around how marginalised groups are affected by the food systems of the UK
Examine the historical context of how food systems have developed in the UK and how they create injustice and inequality as well as obesity and poor food access currently
Look at a range of popular educational tools for communicating with your community
Become familiar with the different food movements in the UK as well as globally
Share best practice for designing and running a food conversation workshop in your locality
By the end of the weekend…
You will be a confident food system activist, ready and willing to support others to participate more in discovering and recovering their power to say what they want to eat, when, how and where.
What this means for you…
You are a leader in your life, your household and your community because you care about the future of food in the UK and beyond. This weekend will help you gain the skills and confidence to take your passion further. You will be linked to a centre for excellence in popular education on issues you care about and you will be able to network with like-minded others.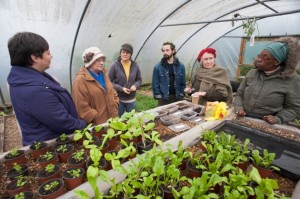 We will support you financially to participate and you will be encouraged to participate in the UK Food Sovereignty Movement, which will be having a national gathering in October 23-26 near Hebden Bridge and Todmorden, which is organising around bringing a change to the UK food system.
Places limited. Please book ASAP.
To find out more email:
Mama D: communitycentredknowledge@gmail.com
Nicole: nicole@feedavalon.org.uk
For more info about Food Sovereignty:
Pillars of Food Sovereignty:
Focuses on Food for People: rejects food as commodities & places people at the centre of food systems
Values food providers: asserts food providers' right to live and work in dignity
Localises food systems: local and regional provision takes precedence over supplying distant markets
Puts control locally: places control in the hands of local food providers
Builds knowledge and skills: builds on farmer generated knowledge & rejects technologies like GM
Works with Nature: works with nature to develop diverse, low-input agroecological production
The course is taking place to feed into the Food Sovereignty Gathering – A national gathering to build a stronger movement for
food sovereignty in the UK in Todmorden, Yorkshire over the weekend of 23-26 October 2015.